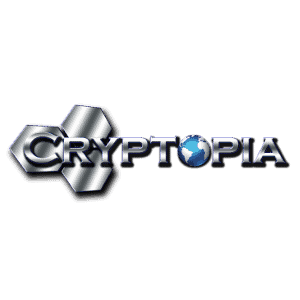 Cryptopia
Only risk Capital you're prepared to loose
The New Zealand based company was founded in 2014 as a one-stop shop for all cryptocurrency trading needs. It is a marketplace, a mining pool, wallet and an exchange platform all in one.
Pros
Multiple security features
Easy level 1 and level 2 verification procedure
Supports trading with over 400 cryptocurrencies
Cons
Does not support fiat –cryptocurrency trading
Website interface can be confusing
Does not support advanced trading
Verification
Verification requirements vary from level to level. At level one traders are required to register with only their email address. At level 2, verification requires details such as full names and physical address. Third level verification is available on request and is more thorough. The higher the level for which a trader is verified, the higher their trading limit.
Currencies
While Cryptopia does not support fiat currencies, however, it supports trading in over 400 currencies. Coins with the highest trading volume on the platform are Bitcoins, Litecoin, DOGE and Ethereum. For every coin, crucial trading information is provided under the "coin info" tab. On the left side of a Cryptopia window are algorithm details for all coins in circulation.
Security
Cryptopia offers its users various security authentication options. Apart from the 2-factor authentication, traders can choose Google authenticator security option under the "settings" tab on their account. The customizable API platform allows traders to tailor their security settings accordingly. Also, leaving the "disable withdrawal confirmation email" option unchecked ensures that an email confirmation is required for every withdrawal request.
Transaction fees
Usually, transaction costs are 0.20% of the cryptocurrency being traded. Deposits are free of charge.
Customer support
Cryptopia main customer support tool is via email. Users can generate tickets in regards to their concerns and send them to the customer support team. The platform also has an active forum where traders can ask questions and share information.
Only risk Capital you're prepared to loose
Exchanges similar to Cryptopia