IMF has added its voice to the global call for cryptocurrency regulation. The international Monetary regulation (IMF) is calling for global coordination among regulators across the globe to enact bitcoin regulation. Failure to regulate the cryptocurrency industry is feared to lead to exponential price charges of the digital currency which are already being experienced.
This far, bitcoin and cryptocurrency regulation has mainly been a responsibility of independent cryptocurrency companies. Still, the regulation has not been standard and varied among companies and from country to country. While some countries have put sanctions to prohibit bitcoin and cryptocurrency trading in their states, most governments remain indifferent in regards to crypto trading.
The Weak Regulation Efforts
The IMF is seeking coordination and cooperation among key global regulators to push for regulatory action. This call comes at a time when cryptocurrencies such as bitcoins have become a household name across the globe. In the last year, the price of bitcoin saw an exponential growth in price that attracted numerous investors.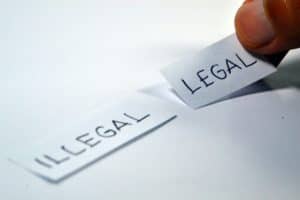 The US Treasury secretary Steve Mnuchin also emphasis on the need for digital currency regulation. He has called upon the G20 nations to come together to ensure that digital currencies do not become the equivalent of anonymous Swiss bank accounts. Mnuchin noted that the US authorities and federal reserve were investigating the upsides and downsides of using digital currency instead of hard cash. Both concluded that there was no need to replace hard cash with digital money at this point.
The Trading Platforms
Many trading platforms allow users to remain anonymous, an aspect that presents a notable risk for money laundering, fraud, tax evasion and financing terrorist activities. Mnuchin attributed the need for regulation as a measure of ensuring that wrong people do not use cryptocurrencies to do bad things. Gerry Rice, IMF spokesman, said that the increased price of digital assets raises risk as participants accumulate money to buy the digital assets.
Christine Lagarde, Managing Director IMF in September 2017 cautioned against dismissing cryptocurrencies. She noted that a few years ago tablets were seen as a foreign concept and many people argued that people would not adopt computers. Equally, cryptos have great future unfolding due to their uses. Christine advocates for a balanced approach of regulating cryptocurrencies.