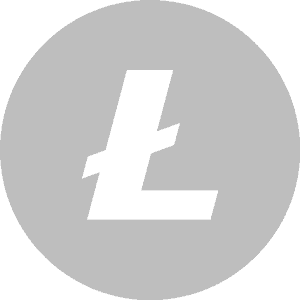 Litecoin (LTC)
$ 115.63
Litecoin is an open source software on the internet that also serves as a peer-to-peer cryptocurrency. It went live to the public officially on 7th October 2011. It is currently the sixth biggest digital asset and uses open source software.
Most of its features are technically similar to Bitcoin's(represented by code XBT). Though it draws some inspiration from the reigning cryptocurrency giant, this digital currency has its fair share of technical upgrades.
These upgrades include the Lightning Network as well as the Segregated Witness. Not only have they elevated Litecoin's status, but they also play a major role in processing an enormous number of transactions. This saves time and reduces the potential risk of bottlenecks, as witnessed in XBT.
Another incredible feature that makes it stand out is the fact that it facilitates swift payments (about four times faster) than XBT. The advanced cryptographic protocol is responsible for the transfer and creation of coins. It is popularly abbreviated as Ł or LTC. This P2P (peer-to-peer) currency enables near-zero, instant payment to any individual across the world.
| | | |
| --- | --- | --- |
| | | |
| | | | | | |
| --- | --- | --- | --- | --- | --- |
| 84000000 | Scrypt | PoW | 13/10/2011 | 2016 blocks | YES |
| 50% | 1639320 | 3.5607296274142E+14 | 61958326.437184 | 25 | Trade |
History of Litecoin
It was introduced into the cryptocurrency arena by Charlie Lee. He was previously an employee of Google. Prior to its official release in 2011, it was linked to the Bitcoin Core client. It had a lower block generation period of approximately two and a half minutes. Its GUI was slightly modified and the hashing algorithm used was not so common.
In 2013, the month of November saw the growth of Litecoin's aggregate value. Within 24hrs, a 100% leap was experienced. It was also the month where Litecoin's market cap reached a whopping 1 billion US dollars. This upward spiral has not gone down ever since. Currently, as of the 16th of August 2017, a single Litecoin is estimated to be worth $ 42.94 with a market capitalization of exactly 2,253,184,567 US Dollars.
Market cap went on to rank Litecoin was ranked among the top-5 cryptocurrencies in May 2017 to make use of Segregated Witness.
Technology of Litecoin
Wallet Encryption
This feature allows you, the user, to view your account balance and past transactions under a secure wallet. However, before spending your ltc, you will be required to input your password for security purposes. This will also protect you from harmful trojans and viruses.
Blockchain
Its blockchain is able to handle enormous volumes of transactions as compared to Bitcoin. Its network is capable of supporting a higher number of transactions with no need for software modification in the near future. Merchants are the biggest beneficiaries of this one-of-a-kind feature. They receive swift confirmation times while they await additional confirmations as they sell other ticket goods.
Mining Reward
In order to mine Litecoins, there's a process you have to follow. First, you need to solve a couple of blocks, which in turn amount to coin network that is cryptographic in nature. Within these blocks, there are hashes. These are basically a collection of encrypted data that provides a certain number of coins once the user has solved it. A very small amount of RAM is used to make mining a possibility.
This feature basically awards miners with 25 Litecoins for every block. The ltc production is therefore set to be increased to about 84 million. This is approximately 4 times Bitcoin's currency units.
Coins similar to Litecoin
Why You Should Consider Using Litecoin
Nowadays, digital assets are gaining global acceptance. If you're seeking to have your first crypto investment, don't look any further. LTC is absolutely easy to use and pretty straightforward. It serves as the best alternative to XBT in every way. If you want to spend your digital money, XBT will be your best bet. Its recent rise in price and volume makes it a great investment deal. To use it, you'll first need to download the Litecoin application, which will become a wallet where you'll store your Litecoins. You can choose to either mine them or buy them for other cryptocurrencies or normal currency. You can also opt to exchange ltc to XBT.