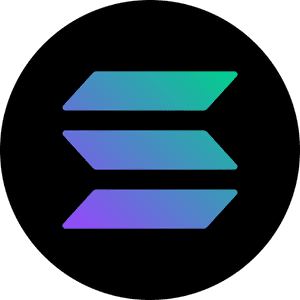 Solana (SOL)
$ 0.0000000
| | | |
| --- | --- | --- |
| | | |
| | | | | | |
| --- | --- | --- | --- | --- | --- |
| | | | 0 | 0 | NO |
| | | | 0 | 0 | Trade |
Solana (SOL) price today is $0.0000000 USD. Trading volume was 0.00 SOL in the last 24 hours. Current market cap of Solana is $0 USD. Solana has a circulating supply of 0 SOL coins out of a maximum supply of 0 SOL coins.
An In-Depth Look at Solana (SOL)
What is Solana (SOL) and how does it work?
Overview
Solana is an innovative, high-performance cryptocurrency blockchain that supports developers and businesses to deploy decentralized applications and crypto projects. It has a native cryptocurrency called SOL, used for transaction fees and staking in its consensus algorithm.
Technical Aspects
Unlike traditional blockchains that depend on a Proof-of-Work (PoW) or a Proof-of-Stake (PoS) consensus algorithm, Solana employs a unique method called Proof of History (PoH). This technology allows for greater scalability and speed. Solana's blockchain can handle up to 65,000 transactions per second (tps), one of the highest rates in the crypto world.
Solana's architecture also includes other innovative components such as Tower BFT (a PoS-based Byzantine Fault Tolerance algorithm), Turbine (a block propagation protocol), Gulf Stream (a Mempool-less transaction forwarding protocol), Sealevel (a parallel smart contracts run-time), and Pipelining (a transaction processing unit for validation optimization).
Team
Solana was co-founded by Anatoly Yakovenko and Greg Fitzgerald in 2017. Yakovenko, a software engineer with experience at Qualcomm and Dropbox, introduced the Proof of History concept that underlies Solana. Fitzgerald, a former Qualcomm colleague, serves as the CTO.
The team behind Solana is composed of former Qualcomm, Intel, Netscape, and Google engineers. The Solana Foundation, based in Geneva, Switzerland, oversees the development and advancement of the Solana ecosystem.
Solana's official launch was on April 10, 2020.
Solana's Key Features and Benefits
Scalability
One of Solana's key features is its scalability. Unlike other blockchains that slow down as the number of transactions increases, Solana's high-performance blockchain keeps pace with demand without relying on off-chain solutions or sharding.
Speed
With a block time of 400ms and the ability to handle 65,000 transactions per second, Solana is one of the fastest blockchains in existence. This speed is crucial for decentralized apps and crypto projects that require fast and secure transactions.
Security
Solana's innovative approach to consensus, Proof of History, enhances security. This is because it adds a cryptographic timestamp for each transaction, ensuring the secure and accurate sequence of each transaction.
Solana's Ecosystem and Partnerships
Solana has attracted a wide range of projects to its ecosystem, across various fields such as DeFi, Web3, and NFTs. Some notable projects built on Solana include Serum, a decentralized exchange; Chainlink, a decentralized oracle network; and Audius, a decentralized music streaming platform.
Solana's partners and investors include prominent names in the crypto and blockchain space, such as Multicoin Capital, Slow Ventures, Foundation Capital, 500 Startups, and CMCC Global. This broad support has helped Solana to rapidly expand its ecosystem and enhance its blockchain's capabilities.
How Does Solana (SOL) Make Money?
Transaction Fees
Solana, like many other blockchain networks, makes money through transaction fees. Every time a user makes a transaction on the Solana network, they are required to pay a small fee. This fee acts as a sort of fuel for the network, incentivizing validators (the entities that maintain the network) to process transactions. The fee is usually quite small, but with the vast number of transactions that take place on the Solana network every day, it adds up to a significant stream of revenue.
Staking Rewards
Another source of income for Solana is through staking. In essence, staking involves users holding their Solana tokens (SOL) in their wallets to support the operations of the Solana network, including transaction validation and data storage. In return for staking their SOL, users earn staking rewards, a portion of which goes to the Solana network.
Token Sales
Solana has also made money through token sales. The Solana Foundation, which oversees the Solana protocol, periodically sells SOL tokens to the public. These sales are a major source of funding for the Solana Foundation and the development of the Solana network.
How Can I Make Money with Solana?
Buying and Selling SOL
One of the most common ways to make money with Solana is by buying and selling SOL tokens. Like other cryptocurrencies, the price of SOL fluctuates based on a number of factors, including market sentiment, demand, and technological developments. By buying SOL when the price is low and selling when the price is high, investors can potentially make a profit.
Staking SOL
As mentioned earlier, Solana users can stake their SOL tokens to earn staking rewards. The amount of staking rewards a user can earn depends on a number of factors, including the amount of SOL they stake, the total amount of SOL staked on the network, and the current inflation rate. Staking SOL can be a good way to earn a passive income, especially for those who plan to hold their SOL for a long period of time.
Building DApps on Solana
Another way to make money with Solana is by building decentralized applications (DApps) on the Solana network. Solana's high-performance blockchain offers fast and cheap transactions, making it a viable platform for DApp development. Developers can earn money from their DApps in a number of ways, including transaction fees, in-app purchases, and token sales.
Participating in Token Sales
Finally, participating in token sales can be a lucrative way to make money with Solana. Many projects built on the Solana network hold token sales to raise funds. By buying tokens early in these sales, investors can potentially earn a significant profit if the project succeeds and the price of the token rises.
In conclusion, Solana's innovative technology and growing ecosystem offer a number of ways for both the project itself and its users to make money. However, as with any cryptocurrency investment, it's important to do your own research and understand the risks before investing.
How Can I Buy Solana (SOL)?
Cryptocurrency has become a hot topic in recent years, and one of the names that have been gaining significant traction is Solana (SOL). If you're interested in investing in Solana, here's a step-by-step guide on how you can buy this promising cryptocurrency.
Create an Account on Binance
Firstly, to buy SOL, you must have an account on a cryptocurrency exchange. Binance is one of the most popular exchanges where you can buy SOL. Creating an account on Binance is a straightforward process. Just go to their website, click on 'Register', and fill in the necessary details.
Verify Your Account
Once you've created your account, the next step is to verify it. Binance requires users to submit personal information to comply with KYC (Know Your Customer) regulations. This may include your name, address, and a copy of your ID. This verification process enhances the security of your account.
Secure Your Account
After verifying your account, it's crucial to secure it. Utilize the security features provided by Binance, such as Two-Factor Authentication (2FA). This involves linking your account to your phone number or email, and you'll receive a unique code each time you log in.
Deposit Fiat Or Cryptocurrency
With your account secure, you can now deposit funds. Binance allows deposits in both fiat and cryptocurrency. If you choose to deposit fiat, you'll need to go through a bank transfer or use a credit/debit card. If you're depositing cryptocurrency, you can transfer it from your existing wallet.
Buy Solana (SOL)
Now that you have funds in your account, you're ready to buy Solana. Go to the trading section on Binance, search for SOL, and enter the amount you want to purchase. Once you're satisfied with the price and amount, click on 'Buy SOL'.
Store Your SOL in a Secure Wallet
After purchasing SOL, it's advisable to store it in a secure wallet. While it's possible to leave it on the exchange, a dedicated cryptocurrency wallet provides a higher level of security.
Want a more detailed guide? You can find it by visiting this page.
What are the Best Wallets for SOL?
Safeguarding your Solana (SOL) is as important as buying it. After all, what's the point of investing if you can't keep your investment safe? Here are some of the best wallets for storing SOL.
Ledger
The Ledger Hardware Wallet is a multi-currency wallet that supports SOL. It's a physical device that stores your private keys offline, providing an additional layer of security.
Trust Wallet
Trust Wallet is a mobile wallet that supports a wide range of cryptocurrencies, including SOL. It has a user-friendly interface and provides a secure environment for your assets.
Phantom
Phantom is a wallet specifically designed for SOL and other Solana blockchain assets. It offers features like staking and swapping, making it a comprehensive tool for SOL holders.
Solflare
Solflare is a web and mobile wallet for SOL. It's non-custodial, meaning you're in full control of your keys and funds.
Each of these wallets has its own advantages, but they all provide a secure place to store your Solana (SOL). Remember, the safety of your assets should always be a priority when dealing with cryptocurrencies.
How Can I Find More Solana (SOL) News?
Keeping up with the latest news on Solana (SOL) can be a daunting task given the rapid developments in the cryptocurrency market. Fortunately, there are several official resources that provide up-to-date, reliable information on Solana.
The official Solana website is an excellent resource for anyone interested in learning more about this innovative cryptocurrency. Here, you will find everything from the latest updates on Solana's performance and development to detailed explanations of its unique features. The website also provides a comprehensive overview of Solana's vision and mission, making it a must-visit for both newcomers to the cryptocurrency world and seasoned investors.
The Solana whitepaper provides an in-depth look at the technical aspects of this blockchain platform. It outlines the unique features of Solana, such as its Proof-of-History consensus mechanism, its high scalability, and its low transaction costs. The whitepaper is a valuable resource for anyone wanting to understand the technology behind Solana and its potential to revolutionize the blockchain industry.
For the latest news and updates on Solana, the official Twitter account is a reliable source. It provides real-time announcements about Solana's latest partnerships, developments, and updates. Furthermore, it allows you to engage with the Solana community, making it a great resource for both information and networking.
The Solana Reddit community is a vibrant space where users share news, discuss developments, and exchange ideas about Solana. It offers a wealth of user-generated content, including discussions, analyses, and predictions about Solana's future. This platform provides an excellent opportunity to engage with a passionate community of Solana enthusiasts and experts.
Coins Similar To Solana (SOL)
There are several other cryptocurrencies that share similarities with Solana. While each has its unique features and benefits, they all strive to improve upon the existing blockchain technology in various ways.
Polkadot aims to enable a completely decentralized internet where users are in control. It connects multiple specialized blockchains into one unified network. Polkadot's main goal is to facilitate the transfer of any type of data across any type of blockchain. To learn more about Polkadot, do visit the provided link.
Cardano is a blockchain platform for smart contracts. It's the first blockchain platform to evolve out of a scientific philosophy and a research-first driven approach. Cardano's development team consists of a large global collective of expert engineers and researchers. For more information on Cardano, feel free to follow the link.
Avalanche is a decentralized platform designed to bring together an ecosystem of blockchains. It aims to create a highly scalable and efficient blockchain network, with low transaction fees and quick finality. To dive deeper into what makes Avalanche unique, click on the provided link.
Ethereum is a decentralized, open-source blockchain featuring smart contract functionality. It is the most actively used blockchain. Ethereum's native cryptocurrency, Ether (ETH), is currently one of the largest cryptocurrencies by market capitalization. To know more about Ethereum's features and its future, do check out the link.