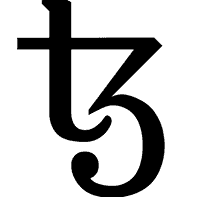 Tezos (XTZ)
$ 0.0000000
| | | |
| --- | --- | --- |
| | | |
| | | | | | |
| --- | --- | --- | --- | --- | --- |
| | | | 0 | 0 | NO |
| | | | 0 | 0 | Trade |
Tezos (XTZ) price today is $0.0000000 USD. Trading volume was 0.00 XTZ in the last 24 hours. Current market cap of Tezos is $0 USD. Tezos has a circulating supply of 0 XTZ coins out of a maximum supply of 0 XTZ coins.
An In-Depth Look at Tezos (XTZ)
What is Tezos (XTZ) and how does it work?
Overview
Tezos (XTZ) is a decentralized, open-source blockchain network that can execute peer-to-peer transactions and serve as a platform for deploying smart contracts. Unlike Bitcoin that uses proof-of-work consensus mechanism, Tezos blockchain utilizes a proof-of-stake consensus algorithm. In Tezos, stakeholders govern the protocol. The users who hold XTZ tokens vote on amendments to the blockchain's code in a process known as 'baking'.
Technical Aspects
At its core, Tezos aims to offer "the world's first self-amending cryptoeconomic network". This means that, in contrast to other blockchains which require a hard fork for upgrades, Tezos proposes protocol upgrades and lets its stakeholders vote to reach consensus and implement the changes.
Tezos uses a unique consensus algorithm called Liquid Proof-of-Stake (LPoS). In this system, token holders can participate in the network's validation process by staking their tokens to become a baker or delegating their tokens to a baker. Unlike traditional proof-of-stake systems where validators are chosen randomly, in Tezos, the probability of becoming a baker is proportional to the number of tokens one holds or is delegated.
Smart contracts on the Tezos network are written in Michelson, a programming language designed specifically for the Tezos blockchain. This language allows formal verification, a mathematical process used to verify the correctness of code. This makes it possible to prove the properties of a contract before it gets executed, thereby enhancing the security of complex and high-value contracts.
Team
Tezos was founded by Arthur Breitman and Kathleen Breitman. Arthur has a background in mathematics and computer science and has worked at well-known firms such as Goldman Sachs and Morgan Stanley. Kathleen has extensive experience in the blockchain space and has been recognized as one of Fortune's 40 Under 40.
The development of the Tezos protocol is overseen by the Tezos Foundation, a Swiss-based entity that promotes the Tezos ecosystem. The Foundation is committed to funding projects that contribute to the growth and advancement of the Tezos network. It also provides grants to researchers, developers, and organizations that are working on projects related to the Tezos protocol.
Tezos was launched on October 6, 2017, after successfully raising $232 million in its initial coin offering (ICO), making it one of the largest ICOs in history. The project has since then gained the backing of a number of prominent investors and partners, including venture capital firms Draper Associates and Polychain Capital.
In conclusion, Tezos is a dynamic platform that empowers its stakeholders and aims to avoid splits over the development and implementation of new features. Its unique approach to blockchain governance and focus on formal verification of smart contracts set it apart from other blockchain platforms.
How Does Tezos (XTZ) Make Money?
Tezos (XTZ), a blockchain network linked to a digital token, also called a "tez" or "tezzie," uses a unique business model. Unlike traditional cryptocurrencies, Tezos doesn't rely on mining but instead generates revenue through a process known as baking.
Baking
In the Tezos system, baking is the act of signing and publishing new blocks in the Tezos blockchain. Bakers need at least 8,000 XTZ to qualify for the creation of blocks, and they are rewarded with additional tezzies for their work. This process is essentially how Tezos generates money. It's a sustainable model that encourages active participation in the network.
Transaction Fees
Tezos also earns money from transaction fees. When transactions are performed on the Tezos network, small fees are charged. These fees are then distributed to the bakers as part of their rewards. This not only incentivizes more people to participate in the baking process but also ensures the network stays active and secure.
Smart Contracts and Dapps
Tezos is a platform for smart contracts and decentralized applications (Dapps). It earns money from the deployment and interaction with these smart contracts and Dapps. Developers have to pay in XTZ to deploy their applications on the Tezos network. This is another significant revenue stream for Tezos.
How Can I Make Money with Tezos?
There are several ways to make money with Tezos. You can either invest in the currency, bake tezzies, or develop smart contracts and Dapps on the Tezos platform.
Buying and Holding
One of the most straightforward ways to make money with Tezos is by buying and holding the XTZ token. Like any other cryptocurrency investment, the goal is to buy low and sell high. However, this method requires a good understanding of the cryptocurrency market, and there's a risk involved as cryptocurrency prices are highly volatile.
Baking
If you own at least 8,000 XTZ, you can become a baker, which is similar to being a miner in the Bitcoin network. As a baker, you'll earn rewards in the form of additional tezzies for creating and verifying new blocks on the blockchain. You can also earn from transaction fees. Baking not only provides a steady income stream but also allows you to actively participate in the Tezos network.
Staking
In Tezos, you can also make money through staking. Staking involves holding your XTZ in a Tezos wallet to support the operations of the blockchain network. In return, you receive additional XTZ as a reward. The difference between baking and staking is that the latter doesn't require a minimum amount of XTZ and is therefore more accessible.
Developing Dapps and Smart Contracts
If you're a developer, you can earn XTZ by creating and deploying Dapps and smart contracts on the Tezos blockchain. Since Tezos is a self-amending blockchain, it can adopt new technologies faster than other blockchains, providing developers with a dynamic and exciting platform to work on.
In conclusion, Tezos offers multiple avenues for both the platform and its users to generate revenue. Its unique baking and staking model, combined with the opportunity to develop on its platform, make it an attractive option for those looking to engage with blockchain technology.
How Can I Buy Tezos (XTZ)?
Create an Account on Binance
To kick-start your journey into the world of Tezos, you first need to create an account on a cryptocurrency exchange that supports Tezos, such as Binance. To do this, navigate to the Binance homepage and click on the "Register" button. Follow the prompts to set up your account.
Verify Your Account
After your account has been created, you will be required to verify your identity. This is a standard process known as KYC (Know Your Customer), implemented to prevent illegal activities like money laundering. You will typically need to provide a form of identification such as a passport or driver's license, and proof of address.
Secure Your Account
Once your account is verified, it's crucial to secure it to prevent unauthorized access. This usually involves setting up two-factor authentication (2FA), where you'll need to verify your login attempts through another device, typically your mobile phone. This adds an extra layer of security to your account.
Deposit Fiat Or Cryptocurrency
With your account secured, you can now deposit funds. Binance allows you to deposit either fiat currency (like USD, EUR, etc.) or cryptocurrency (like BTC or ETH). Simply go to your wallet on Binance, select the currency you wish to deposit, and follow the instructions provided.
Buy Tezos (XTZ)
With funds in your account, you can now purchase Tezos. Navigate to the markets section on Binance, search for the XTZ pair that corresponds with the currency you deposited (e.g., XTZ/USD if you deposited USD), and place a buy order. Once the order is filled, Tezos (XTZ) will be added to your Binance wallet.
Store Your Tezos in a Secure Wallet
Finally, for the safety of your investment, it's advisable to move your Tezos from the exchange to a secure wallet. Cryptocurrency exchanges are often targeted by hackers, and by storing your XTZ in a wallet where you control the private keys, you greatly reduce the risk of losing your coins.
For a more detailed guide on how to buy XTZ, you can visit this comprehensive guide.
What are the Best Wallets for Tezos (XTZ)?
There are numerous wallets available for storing Tezos, and the best one for you depends on your specific needs and preferences. However, some of the most highly recommended wallets include:
Remember, the security of your investment is paramount. Always ensure to store your Tezos (XTZ) in a secure wallet.
How Can I Find More Tezos (XTZ) News?
Tezos (XTZ) is a blockchain project that aims to offer a platform for smart contracts and decentralized applications (dApps). It stands out because of its on-chain governance model, which allows stakeholders to vote on protocol upgrades. This process eliminates the need for hard forks and promotes decentralized decision-making. If you're interested in Tezos and want to stay updated with its latest news and developments, here are some resources you should consider:
The official Tezos website is a reliable source of information about the project. It provides details about the technology behind Tezos, the team involved, and the latest updates. The website also offers resources for developers interested in building on the Tezos platform.
The Tezos Whitepaper is a comprehensive document that details the project's technical aspects, goals, and proposed solutions. Reading the whitepaper is a must for anyone looking for an in-depth understanding of Tezos and its unique features.
Tezos' official Twitter account is a great way to stay updated with the project's latest news and developments. The account regularly posts about updates, partnerships, and events related to Tezos.
The Tezos Reddit community is an active forum where users discuss recent news, share ideas, and ask questions about the project. It's a great place to interact with other Tezos enthusiasts and stay updated on what's happening in the Tezos world.
Coins Similar To Tezos (XTZ)
If you are interested in Tezos, you might also want to explore other similar blockchain projects. Here are a few alternatives that you might find interesting:
Stacks is a layer-1 blockchain solution that brings smart contracts and decentralized apps (dApps) to Bitcoin. It's designed to leverage Bitcoin's robustness and security while expanding its functionalities. To learn more about Stacks, consider visiting its page on Datacoinz.
Conflux is a next-generation blockchain protocol that offers high performance and security while maintaining decentralization. It uses a unique Tree-Graph consensus algorithm to achieve fast transaction processing. For more information about Conflux, head over to its Datacoinz page.
EOS is a blockchain platform for the development of decentralized applications (dApps), similar to Ethereum and Tezos. It provides an operating-system-like set of services and functions that dApps can make use of. Visit the EOS page on Datacoinz to find out more.
Fantom is a high-performance, scalable, and secure smart-contract platform. It is designed to overcome the limitations of previous generation blockchain platforms. Fantom is rapidly gaining popularity in the DeFi (Decentralized Finance) space. To learn more about Fantom, consider visiting its Datacoinz page.