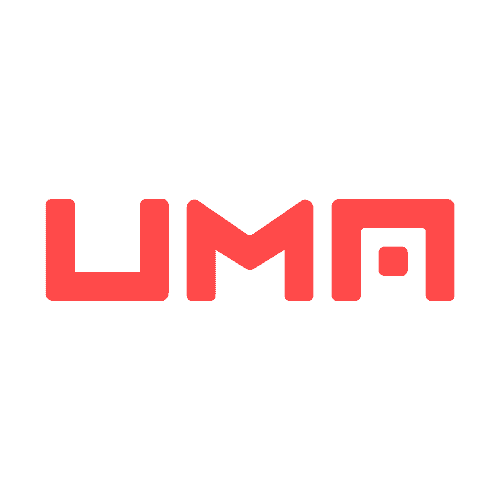 UMA (UMA)
$ 0.0000000
| | | |
| --- | --- | --- |
| | | |
| | | | | | |
| --- | --- | --- | --- | --- | --- |
| | | | 0 | 0 | NO |
| | | | 0 | 0 | Trade |
UMA (UMA) price today is $0.0000000 USD. Trading volume was 0.00 UMA in the last 24 hours. Current market cap of UMA is $0 USD. UMA has a circulating supply of 0 UMA coins out of a maximum supply of 0 UMA coins.
An In-Depth Look at UMA (UMA)
What is UMA (UMA) and how does it work?
Overview
UMA, which stands for Universal Market Access, is a decentralized financial contracts platform built to enable Universal Market Access. UMA allows users to create custom collateralized synthetic cryptocurrency tokens that can track the price of virtually anything. The project launched on May 25, 2020. At its heart, UMA is designed to power the financial innovations made possible by permissionless, public blockchains, like Ethereum.
UMA defines an open-source protocol that allows any two counterparties to design and create their own financial contracts. However, unlike traditional financial contracts, UMA contracts are secured with economic guarantees, making them self-enforcing and universally accessible.
Technical Aspects
UMA operates on two main mechanisms: the Priceless Contract design and Data Verification Mechanism (DVM).
The Priceless Contract design is a core innovation of UMA. It's a type of smart contract that doesn't need an on-chain price feed to function. This design minimizes on-chain transactions and thus reduces costs. Instead of constantly monitoring the collateralization ratio, it only does so when a contract is disputed.
The Data Verification Mechanism (DVM) is the oracle service of UMA. In the event of a dispute, the DVM will be called upon to settle it. The DVM relies on a network of tokenholders who vote on the value of the price identifier in question. These tokenholders are incentivized to vote correctly as their UMA tokens are at stake.
Team
UMA was founded by two financial market veterans, Hart Lambur and Allison Lu. Lambur, the CEO of UMA, previously worked at Goldman Sachs on its trading desk, while Lu, the CTO, was a trader at Goldman Sachs and a developer at Two Sigma, a leading hedge fund.
The UMA team is supported by a strong set of backers and partners. These include well-known venture capital firms such as Coinbase Ventures, Dragonfly Capital, and Placeholder, among others. They have also formed partnerships with other leading projects in the DeFi space, such as Compound and MakerDAO.
UMA is not just a project, but also a community of developers and financial specialists working together to build a more open, fair, and accessible financial system. This team has been instrumental in driving the vision of UMA and pushing its innovative technology forward.
UMA is a prime example of how the blockchain and DeFi industry is innovating and creating new forms of financial products and services that are accessible to everyone, regardless of their location or financial status. It provides a powerful toolset for anyone to create and enforce financial contracts, without the need for intermediaries or central authorities.
In conclusion, UMA represents a significant step forward in the world of financial contracts and derivatives. By leveraging the transparency, security, and accessibility of public blockchains, it can democratize access to financial risk and create a more inclusive financial system. Despite being a relatively new project, UMA has shown significant promise and it will be exciting to see how it continues to shape the future of finance.
How Does UMA (UMA) Make Money?
UMA, which stands for Universal Market Access, is a decentralized financial contracts platform built to enable Universal Market Access. It provides developers the ability to design and create their own financial contracts and self-enforcing contract systems. But how does this cryptocurrency platform generate revenue?
Transaction Fees
Like many other blockchain platforms, UMA makes money through transaction fees. These fees are charged to users whenever they perform a transaction on the UMA platform. The fees are designed to compensate for the computing energy required to validate and record the transactions on the blockchain.
Liquidity Provision
UMA also makes money by providing liquidity. The platform uses a unique mechanism known as a "Data Verification Mechanism" (DVM) which allows UMA token holders to vote on the price of an asset and earn rewards in the form of UMA tokens. By providing liquidity to the protocol, users are incentivized to hold and stake their UMA tokens.
Protocol Development
Another way UMA generates revenue is through protocol development. The UMA project has its native token, UMA, which is used for governance and system management. The token has a value, and as the platform develops and becomes more widely used, the value of the UMA token increases. This appreciation in token value is another way the platform generates income.
How Can I Make Money with UMA?
As an investor or developer, there are several ways you can potentially make money with UMA. However, please note that investing in cryptocurrencies involves risk, and it's important to do your own research and thoroughly understand the platform before investing.
Buying and Holding UMA Tokens
One of the most straightforward ways to make money with UMA is by buying and holding UMA tokens. As stated above, the value of UMA tokens can increase over time as the platform develops and becomes more widely used. Investors can potentially profit from buying UMA tokens at a low price and selling them when the price increases.
Staking
Another way to make money with UMA is through staking. By staking your UMA tokens in the protocol, you can earn rewards. This is because the UMA protocol uses a system called Proof-of-Stake (PoS), where token holders can participate in network management and earn rewards for their participation.
Providing Liquidity
As a UMA user, you can also make money by providing liquidity. By depositing your UMA tokens into the liquidity pool, you can earn a portion of the transaction fees generated by the protocol. This can potentially provide a steady passive income.
Developing Financial Contracts
If you're a developer, you can potentially profit from UMA by creating your own financial contracts. UMA's platform allows for the creation of self-enforcing contract systems, which can be designed and customized to fit your specific needs. By creating and implementing these contracts, developers can charge fees and make money from their use.
In conclusion, UMA provides numerous opportunities for both developers and investors to generate income. Whether through buying and holding UMA tokens, staking, providing liquidity, or developing financial contracts, there are several ways to potentially profit from this innovative platform. However, as with all investments, it's important to do your own research and understand the risks before getting involved.
How Can I Buy UMA (UMA)?
Create an Account on Binance
To start, you will need to create an account on a cryptocurrency exchange that supports UMA. One popular option for this is Binance. Navigate to the Binance website and choose "Register." Fill in your email and password, read and agree to Binance's Terms of Use, and then click "Create Account."
Verify Your Account
After creating your account, Binance will require you to verify your identity for security purposes and to comply with global financial regulations. This process involves providing some personal information and proof of identity, such as a passport or driver's license.
Secure Your Account
Security is paramount when dealing with digital assets. Therefore, after verifying your account, it's important to set up two-factor authentication (2FA). This can usually be done through your account settings and will involve linking your account to your phone or another device, providing an additional layer of security.
Deposit Fiat or Cryptocurrency
Once your account is secure, you'll need to deposit the funds you want to use to buy UMA. Binance allows you to deposit either fiat money (like USD or EUR) or cryptocurrency (like BTC or ETH). Navigate to your wallet on Binance and select "Deposit." Choose your preferred currency, follow the on-screen instructions, and complete the transaction.
Buy UMA (UMA)
Now that your account is funded, you can purchase UMA. Head over to the trading section on Binance, find the UMA trading pair (like UMA/USD or UMA/BTC), and enter the amount of UMA you wish to buy. Confirm the transaction details and finalize the purchase.
Store Your UMA in a Secure Wallet
After purchasing, it's critical to store your UMA in a secure wallet. While you can keep it on Binance, many prefer to transfer their cryptocurrencies to a private wallet for added security. To do this, you'll need to have a wallet that supports UMA, copy your wallet's address, and then navigate to your Binance wallet. Choose "Withdraw," select UMA, and enter your wallet's address. Confirm and complete the transaction to transfer your UMA to your wallet.
For a more detailed guide on how to buy UMA, you can visit this comprehensive guide.
What are the Best Wallets for UMA?
When it comes to storing your UMA securely, not all wallets are created equal. Here are some of the best options currently available:
Remember, the choice of wallet depends on your specific needs and preferences. Always make sure to do your research before deciding where to store your UMA.
How Can I Find More UMA (UMA) News?
UMA Website
UMA's official website is an excellent resource for anyone interested in finding out more about the project. The site features a detailed overview of UMA's mission, team, and partners. It also includes blog posts and updates about the project's latest advancements. For those who want to delve deeper, a wealth of technical documents is available in the site's 'Docs' section.
UMA Whitepaper
To gain an in-depth understanding of UMA's vision and technology, a must-read is the project's whitepaper. This detailed document outlines the protocol's structure and functionality, as well as its underlying philosophy and long-term goals. It provides a comprehensive understanding of UMA's innovative approach to decentralized financial contracts.
UMA Twitter
A great source of real-time updates and news about UMA is its official Twitter account. The account regularly posts about the latest developments, partnerships, and events related to UMA. It's an excellent platform for staying up-to-date with the project and engaging with the UMA community.
Coins Similar To UMA (UMA)
Lido Staked ETH
Lido Staked ETH is a unique cryptocurrency that allows users to stake their Ethereum in a decentralized manner. It's an innovative approach that combines the security of staking with the flexibility and liquidity of DeFi. To find out more about Lido Staked ETH and how it's changing the staking landscape, you can visit the link provided.
FLEX
FLEX is a digital currency designed for the CoinFLEX exchange. It provides various benefits to its holders, including lower trading fees, enhanced yield on crypto deposits, and more. If you're interested in learning more about FLEX and its benefits, feel free to visit the given link.
dYdX
dYdX is a decentralized exchange that allows users to trade, borrow, and lend cryptocurrencies. With a focus on advanced financial strategies, dYdX provides users with the tools to leverage their assets in a secure, decentralized environment. For more information about dYdX and its offerings, you can visit the provided link.
Frax Share
Lastly, Frax Share is a unique cryptocurrency that represents a fractional ownership in the Frax ecosystem. As a governance token, Frax Share allows holders to vote on various proposals and decisions that shape the Frax protocol. To learn more about Frax Share and its role in the Frax ecosystem, you can visit the link given.