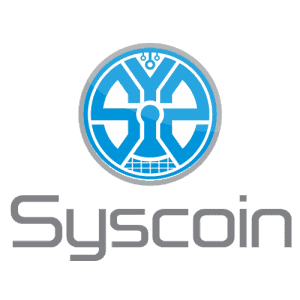 SysCoin (SYS)
$ 0.0860136
| | | |
| --- | --- | --- |
| | | |
| | | | | | |
| --- | --- | --- | --- | --- | --- |
| | 2014-04-27 | PoW | 888,000,000 | 717,728,953 | NO |
| blockchain | 0 | 150 | 1,694,572 | 87,415,717,714,503,303,168 | Trade |
SysCoin (SYS) price today is $0.0860136 USD. Trading volume was 5,411.84 SYS in the last 24 hours. Current market cap of SysCoin is $64,286,105 USD. SysCoin has a circulating supply of 717,728,953 SYS coins out of a maximum supply of 888,000,000 SYS coins.
An In-Depth Look at Syscoin (SYS)
What is Syscoin (SYS) and how does it work?
Overview
Syscoin (SYS) is a blockchain protocol that provides businesses and individuals with a cost-effective, efficient, and secure way to trade goods, assets, digital certificates, and data in a decentralized manner. The Syscoin platform was officially launched on August 20, 2014, and since then, it has been providing real-world solutions to businesses and individuals alike.
The Syscoin blockchain is designed to provide near-zero cost financial transactions, and it aims to provide businesses with the infrastructure to trade goods, assets, and digital certificates. With Syscoin, users can create their own unique cryptocurrencies, which can then be used in a variety of applications, from loyalty programs to token systems and more.
Technical Aspects
Syscoin's blockchain is powered by a network of computers (nodes), which are responsible for processing transactions and maintaining the integrity of the blockchain. One of the unique features of Syscoin is its merge mining capability, which allows miners to simultaneously mine Syscoin and Bitcoin, thereby enhancing the security of the Syscoin network.
Syscoin also employs the Z-DAG (Zero Confirmation Directed Acyclic Graph) protocol for its transactions, providing near-instantaneous transaction speeds, which makes it highly suitable for point-of-sale applications. Moreover, Syscoin is integrated with the Ethereum network, enabling smart contracts and other Ethereum features on the Syscoin platform.
Team
The team behind Syscoin is comprised of experienced professionals with backgrounds in business, engineering, and blockchain technology. The project was initiated by Sebastian Schepis, who is currently the core developer of the Syscoin team. Other key members include Jagdeep Sidhu, the core developer and blockchain technology expert, and Dan Wasyluk, the team manager with a wealth of experience in team and project management.
The Syscoin team works under the umbrella of Blockchain Foundry Inc., a company that provides blockchain consulting services and develops blockchain-based software solutions. The company has completed several successful projects, and it continues to innovate and push the boundaries of blockchain technology.
Syscoin has also formed partnerships with notable companies in the blockchain industry. One of their key partnerships is with Microsoft Azure, a cloud computing service created by Microsoft. This partnership allows developers on the Azure platform to develop applications using the Syscoin blockchain.
In conclusion, Syscoin (SYS) is a robust and secure blockchain platform that provides businesses and individuals with a wide range of possibilities. The Syscoin team continues to innovate and develop the platform, adding new features and capabilities to meet the evolving needs of its users. With its advanced features and dedicated team, Syscoin is poised to play a significant role in the future of blockchain technology.
How Does Syscoin (SYS) Make Money?
Syscoin (SYS) is a blockchain protocol that provides businesses and individuals with low-cost tokens, assets, and NFTs. It was launched in 2014 as a fork of the Bitcoin protocol, but has since added a range of new features. Here's how Syscoin makes money.
Transaction Fees
Syscoin, like many other cryptocurrencies, makes money through transaction fees. Whenever a Syscoin transaction is processed, a small fee is charged. This fee is typically very small, but it adds up over time as more and more transactions are processed on the Syscoin network.
Asset and Token Creation
Syscoin also enables businesses and individuals to create their own tokens and digital assets on the Syscoin blockchain. This is similar to how Ethereum allows for the creation of ERC-20 tokens. When a business or individual wants to create a new token or digital asset, they pay a fee to the Syscoin network. This provides another revenue stream for Syscoin.
Platform Services
The Syscoin platform offers a range of services, including encrypted messaging, marketplace sales, and arbitrated escrow. These services are paid for using SYS, the native cryptocurrency of the Syscoin network. This creates a demand for SYS and adds to the ways in which Syscoin makes money.
How Can I Make Money with Syscoin?
Making money with Syscoin involves understanding the value of the SYS token and the services provided by the Syscoin network. Here are a few ways you can potentially make money with Syscoin.
Buying and Holding SYS
One of the most straightforward ways to make money with Syscoin is to buy SYS and hold onto it. If the value of SYS increases over time, you can sell your SYS for a profit. However, this approach requires a good understanding of the cryptocurrency market and the factors that influence the price of SYS.
Mining Syscoin
Syscoin uses a combination of proof of work (PoW) and proof of stake (PoS) consensus mechanisms. This means you can mine SYS, similar to how Bitcoin is mined. However, mining requires a significant investment in hardware and electricity, and it's important to do your research to ensure that mining SYS is profitable for you.
Providing Services on the Syscoin Network
If you have a business or service that can benefit from the features of the Syscoin blockchain, you can potentially make money by integrating with the Syscoin network. For example, you could create your own digital asset or token on the Syscoin blockchain, or you could use the Syscoin platform's services to enhance your existing business model.
Staking Syscoin
Syscoin also allows for staking, which is a way to earn passive income by holding and validating transactions on the network. By staking your SYS, you can earn a portion of the transaction fees as a reward. This can be a good way to earn an ongoing income from your investment in Syscoin.
In conclusion, Syscoin provides various opportunities for individuals and businesses to make money. However, like all investments, it's important to do your research and understand the risks before investing in Syscoin or any other cryptocurrency.
How Can I Buy Syscoin (SYS)?
Create an Account on Binance
The first step to purchasing Syscoin (SYS) is to create an account on a cryptocurrency exchange. One reliable and popular option is Binance. To create an account, you'll need to provide your email address and create a password.
Verify Your Account
After signing up on Binance, you need to verify your account. This is a mandatory step as it's part of Know Your Customer (KYC) regulations. Binance will ask you to provide personal information like your full name, address, and proof of identity.
Secure Your Account
Account security should be a top priority when dealing with cryptocurrencies. Make sure to enable two-factor authentication (2FA) on Binance. This adds an additional layer of security, ensuring that only you can access and make transactions in your account.
Deposit Fiat Or Cryptocurrency
Once your account is set up and secure, you can deposit funds. Binance allows you to deposit either fiat money or other cryptocurrencies. If you're new to cryptocurrencies, you may want to start by depositing fiat.
Buy Syscoin (SYS)
With funds in your Binance account, you can now buy Syscoin. Go to the exchange section, search for Syscoin (SYS), and place a buy order. You can specify the amount of SYS you want or the amount of fiat or other cryptocurrency you want to spend.
Store Your SYS in a Secure Wallet
After purchasing, it's important to store your Syscoin in a secure wallet. Leaving your cryptocurrency on an exchange exposes you to the risk of hacking. There are several secure wallets that support Syscoin which we will discuss in the next section.
For a more detailed guide on how to buy SYS, you can visit here.
What are the Best Wallets for SYS?
There are several wallets suitable for storing Syscoin (SYS). Here are a few options:
Syscoin Spark Wallet: This is the official wallet for Syscoin. It offers features like real-time transaction history, encrypted messaging, and marketplace listings.

Coinomi: This is a popular multi-currency wallet that supports Syscoin. Coinomi offers strong security features and is available on both desktop and mobile.

Blockmarket Desktop: This is more than just a wallet. It's a complete marketplace platform where you can use your Syscoin to purchase goods and services.

Holy Transaction: This is a web-based multi-currency wallet that supports Syscoin along with many other cryptocurrencies.
Each of these wallets has its unique features and benefits. Choose the one that best fits your needs. Remember, the security of your Syscoin is paramount, so ensure you choose a wallet that offers robust security features.
How Can I Find More Syscoin (SYS) News?
If you are interested in Syscoin and want to stay updated with the latest news and developments, there are a number of resources you can use.
The official Syscoin website is a great place to start. It provides a comprehensive overview of the cryptocurrency, including its features, use-cases, and roadmap. Additionally, the website also hosts a blog section where you can find news articles and updates about Syscoin.
The Syscoin whitepaper is a must-read for anyone who wants to understand the technical aspects of this cryptocurrency. The whitepaper provides a detailed explanation of Syscoin's underlying technology, its unique selling propositions, and its long-term vision.
Syscoin's Twitter account is another good source of news and updates. The team regularly posts about new partnerships, updates to the platform, and other important news. Following Syscoin on Twitter will allow you to get these updates in real time.
The Syscoin subreddit is a community-driven platform where users discuss everything related to Syscoin. Here, you can find news, discussions, questions, and more. The subreddit is quite active, and you are likely to find useful information here.
Coins Similar To Syscoin (SYS)
If you are interested in Syscoin, you might also want to check out some other cryptocurrencies with similar features and goals. Here are a few that you might find interesting:
Locus Chain is a next-generation blockchain platform designed for high performance and security. It aims to create a decentralized and transparent global financial system. Visit the link to find out more about Locus Chain.
Formerly known as OmiseGo, the OMG Network is a scaling solution for Ethereum that aims to increase the speed and decrease the cost of transactions. It is a highly ambitious project with a strong team behind it. Visit the link to learn more about the OMG Network.
Cartesi is a layer-2 infrastructure for blockchains that allows for large-scale computations to be performed off-chain without compromising decentralization. It aims to make blockchain technology more accessible and cost-effective. Visit the link to find out more about Cartesi.
Celer Network is a layer-2 scaling platform that enables fast, easy, and secure off-chain transactions for not only payment transactions, but also generalized off-chain smart contracts. It aims to bring blockchain technology to mass adoption. Visit the link to learn more about the Celer Network.