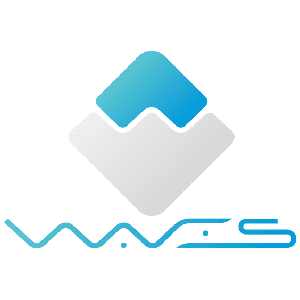 Waves (WAVES)
$ 1.5500000
| | | |
| --- | --- | --- |
| | | |
| | | | | | |
| --- | --- | --- | --- | --- | --- |
| | 2016-06-12 | LPoS | -1 | 112,549,192 | NO |
| blockchain | 6 | 0 | 3,831,531 | 0 | Trade |
Waves (WAVES) price today is $1.5500000 USD. Trading volume was 4,685,614.93 WAVES in the last 24 hours. Current market cap of Waves is $174,451,248 USD. Waves has a circulating supply of 112,549,192 WAVES coins out of a maximum supply of unlimited WAVES coins.
An In-Depth Look at Waves (WAVES)
What is Waves (WAVES) and how does it work?
Overview
Waves (WAVES) is a decentralized blockchain platform that enables anyone to create their own custom token. Launched on June 2, 2016, it provides a wide range of services from decentralized solutions to digital asset trading. The aim of Waves is to facilitate the mass adoption of blockchain technology. The platform allows for the swift and secure creation of new digital assets, enabling businesses and individuals to tokenize tangible and intangible assets.
Technical Aspects
Waves' blockchain operates on the leased proof-of-stake (LPoS) consensus algorithm. The LPoS mechanism allows WAVES token holders to lease their coins to a network node. In return, they receive rewards from transaction fees. This promotes network security without requiring every token holder to run a network node.
Waves also features a decentralized exchange (DEX), enabling users to trade digital assets directly from their wallets in a secure and fast environment. The DEX ensures that users retain control of their funds at all times, as funds are held in a blockchain-secured personal wallet and not by a centralized exchange.
The Waves platform also includes smart contracts, but unlike Ethereum, they are more straightforward and non-Turing complete. This approach is intended to provide a balance between functionality and ease of use.
Team
Waves was founded by Alexander Ivanov, a physicist by training and a well-known figure in the blockchain space. Ivanov assembled a strong team of developers and experts to work on Waves. The team comprises individuals with expertise in mathematics, physics, and computer science.
Ivanov's vision for Waves was to create a platform where anyone, irrespective of their knowledge of blockchain, could create a token. He wanted to simplify the process of creating and trading digital assets, thus making blockchain technology accessible and usable for the masses.
Waves' team is also supported by a number of strategic partners and investors. These include firms like TMT Investments, a venture capital company specializing in high-tech investments, and Dolfin, a financial services company.
Since its launch, Waves has grown significantly and has established itself as a major player in the blockchain industry. Its emphasis on user-friendliness, coupled with a strong technical foundation, makes it a platform to watch in the coming years. The team continues to innovate and push the boundaries of what's possible with blockchain technology, making Waves a significant contributor to the broader blockchain ecosystem.
How Does Waves (WAVES) Make Money?
Waves (WAVES) is a blockchain platform that allows users to generate their own tokens, which can then be traded on the platform's decentralized exchange. But how does the platform itself generate revenue? There are several key methods.
Transaction Fees
One of the primary ways that Waves makes money is through transaction fees. These are charges that users must pay whenever they conduct a transaction on the Waves platform. This includes transferring tokens, leasing Waves, or conducting trades on the platform's decentralized exchange. The fees are typically small, but with a high volume of transactions, they can add up to significant income.
Token Generation
Waves allows users to generate their own unique cryptocurrency tokens. To do this, users must pay a fee in WAVES. This is another source of income for the platform. The ability to create a custom token without the need for complex programming has made Waves a popular choice for businesses and individuals looking to launch their own digital currencies.
Leasing Waves
The Waves platform operates on a proof-of-stake (PoS) model, which means that users can earn rewards by holding and staking their WAVES tokens. However, not all users have the resources or desire to participate in staking directly. Instead, they can lease their WAVES to full nodes who then use them to generate new blocks. In return, the leaser receives a portion of the transaction fees. This process, known as leasing Waves, also generates income for the platform.
How Can I Make Money with Waves?
There are several ways that an individual can make money with Waves. Here are a few key methods to consider.
Trading WAVES on Exchanges
Waves (WAVES) is a cryptocurrency that can be bought and sold on various digital currency exchanges. By buying WAVES when the price is low and selling when the price is high, traders can potentially earn a profit.
Staking WAVES
As mentioned previously, the Waves platform operates on a proof-of-stake model. This means that by simply holding WAVES in a wallet and staking them, users can earn rewards. These rewards come in the form of transaction fees, which are distributed to stakers whenever a new block is created on the Waves blockchain.
Leasing WAVES
If you don't want to stake your WAVES directly, you can lease them to a full node. In return, you will receive a portion of the transaction fees collected by the node. This can be a more passive way to earn income from WAVES, as it requires less active participation than staking.
Creating and Selling Custom Tokens
If you have a business idea or project that could benefit from having its own digital currency, you could consider creating a custom token on the Waves platform. Once you've created your token, you can sell it to investors, use it to fundraise for your project, or use it within your business ecosystem. By creating a successful token, you could potentially earn significant profits.
In conclusion, both Waves the platform and WAVES the cryptocurrency offer multiple avenues for generating income. Whether you're interested in trading digital currencies, staking or leasing WAVES, or creating your own custom token, there are opportunities to make money with Waves. However, as with any investment, it's important to do thorough research and understand the risks involved before getting started.
How Can I Buy Waves (WAVES)?
Create an Account on Binance
To begin your journey with Waves (WAVES), the first step is to create an account on a trusted cryptocurrency exchange. Binance, one of the world's largest and most reputable exchanges, offers WAVES trading pairs. To create an account, go to the Binance homepage and click on "Register". You will be required to provide a valid email address and choose a password.
Verify Your Account
After registering on Binance, you need to verify your account. This process involves proving your identity through the submission of personal documents, such as your passport or driver's license. Verification is crucial as it provides an extra layer of security to your account and allows you to make withdrawals.
Secure Your Account
Securing your account is paramount in the world of digital assets. Binance offers several security measures, including two-factor authentication (2FA), which typically involves linking your account to your mobile device. When enabled, you will need to input a unique code sent to your mobile device each time you log in.
Deposit Fiat Or Cryptocurrency
Once your Binance account is set up and secure, you can deposit funds. Binance allows users to deposit both fiat and cryptocurrencies. If you're new to the crypto space, you might want to start by depositing fiat. However, if you already have digital assets, you can deposit them directly into your Binance account and trade them for WAVES.
Buy Waves (WAVES)
To buy WAVES on Binance, navigate to the exchange's trading platform. Select WAVES from the list of available cryptocurrencies, enter the amount you wish to purchase, and complete the transaction. Always double-check the details of your purchase before confirming it.
Store Your WAVES in a Secure Wallet
After purchasing WAVES, it's advisable not to leave your assets on the exchange due to potential security risks. Instead, move your WAVES to a secure wallet where you control the private keys. There are several wallets available that support WAVES, and we'll cover some of the best options in the next section.
For a more detailed guide on how to buy WAVES, you can visit this website.
What are the Best Wallets for WAVES?
Storing your WAVES in a secure wallet is crucial to ensure the safety of your investment. Here are a few options:
Waves.Exchange Wallet: This is the official wallet developed by the Waves platform. It supports all types of assets issued on the Waves platform, including WAVES itself. It is available as a web wallet, a desktop client, and a mobile app for Android and iOS.

Ledger Nano S: If you prefer a hardware wallet, the Ledger Nano S is a great choice. This device stores your private keys offline on the device, making it nearly impossible for hackers to access your assets. It supports a wide range of cryptocurrencies, including WAVES.

Coinomi: Coinomi is a popular multi-asset wallet available for both desktop and mobile. It supports a vast array of cryptocurrencies, including WAVES. Coinomi places a strong emphasis on security while also being user-friendly.
Remember, the safety of your investment heavily relies on the security measures you implement. Always choose a wallet that best suits your needs and ensure to keep your private keys private.
How Can I Find More Waves (WAVES) News?
As an open-source platform that seeks to bring blockchain technology to the people, Waves (WAVES) is no stranger to updates and breakthroughs. Thus, staying informed about their progress can be critical. Luckily, there are several sources where you can get the latest news about this cryptocurrency.
The official Waves website is a rich source of information about the platform. Here, you can find news, updates, and technical details about the Waves ecosystem. The website is a treasure trove of information for anyone looking to understand the platform and its cryptocurrency better.
For a more in-depth understanding of the Waves platform, their official whitepaper is available. The document reveals the technical details, the vision, and the strategies employed by the Waves team. Reading the whitepaper can give you a deeper understanding of the platform, its objectives, and how it plans to achieve them.
The Waves Twitter account is an excellent place to get timely updates about the platform. The account is frequently updated with the latest news, updates and community interactions. Following the account can be a great way to stay updated on the platform's developments.
Finally, the Waves subreddit is a vibrant community of users, investors, and enthusiasts. Here you can engage in discussions about the platform, share news, and ask questions. The subreddit can be a great way to get a sense of the community around Waves.
Coins Similar To Waves (WAVES)
Apart from Waves, there are several other innovative cryptocurrencies that are worth exploring. Here are some similar coins and where you can find more information about them.
Kadena is a hybrid blockchain platform that seeks to solve the scalability issues faced by traditional blockchains. It boasts a simple, secure, and scalable Proof of Work system. It's definitely worth exploring further.
Kusama is an experimental blockchain platform that serves as a testbed for the Polkadot network. It allows developers to test their projects in a real-world environment. If you're interested in the future of blockchain technology, Kusama is worth checking out.
SKALE Network is a high-throughput, low-cost platform for Ethereum. With SKALE, developers can run smart contracts at a fraction of the cost, making it an interesting prospect for those interested in efficient blockchain solutions.
Harmony is a blockchain platform designed to facilitate the creation and use of decentralized applications (DApps). Its unique sharding process improves scalability and security. If you're interested in the intersection of blockchain and application development, Harmony is a platform worth exploring.
Each of these cryptocurrencies brings a unique approach to the blockchain space. They represent the diversity and innovation that makes the crypto world such an exciting place to be.
Rank
Exchange
Country
Coin Types
Fees
Trade
1

Binance

Cayman Islands

378

Currencies including WAVES

0,10%

More infos
2

Etoro

Cyprus

34

Currencies including WAVES

0,10% > 1%

More infos
3

Coinbase

US

107

Currencies including WAVES

1,49% > 3,99%

More infos
4

Bitfinex

British Virgin Islands

150

Currencies including WAVES

0,10% > 0,20%

More infos