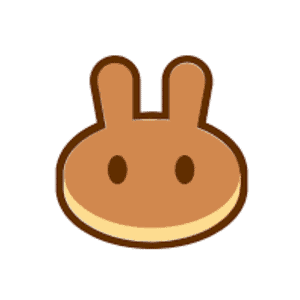 PancakeSwap (CAKE)
$ 0.0000000
| | | |
| --- | --- | --- |
| | | |
| | | | | | |
| --- | --- | --- | --- | --- | --- |
| | | | 0 | 0 | NO |
| | | | 0 | 0 | Trade |
PancakeSwap (CAKE) price today is $0.0000000 USD. Trading volume was 0.00 CAKE in the last 24 hours. Current market cap of PancakeSwap is $0 USD. PancakeSwap has a circulating supply of 0 CAKE coins out of a maximum supply of 0 CAKE coins.
An In-Depth Look at PancakeSwap (CAKE)
What is PancakeSwap (CAKE) and how does it work?
Overview
PancakeSwap, symbolized as CAKE, is an Automated Market Maker (AMM) and Decentralized Exchange (DEX) built on the Binance Smart Chain (BSC). Launched on September 25, 2020, it gained popularity for its efficiency, low fees, and rewarding yield farming options. Users can swap between cryptocurrencies, provide liquidity, and earn fees in return, or stake their tokens to earn CAKE.
Technical Aspects
PancakeSwap uses an automated market maker model, allowing users to trade directly with the liquidity pool. These pools are filled by users who deposit their funds into the pool and receive liquidity provider (LP) tokens in return. These LP tokens can then be staked to earn CAKE rewards.
On the other hand, PancakeSwap also offers yield farming opportunities. Users can stake their LP tokens to earn CAKE. The amount of CAKE that users can earn is proportional to the amount of liquidity they provide.
PancakeSwap also includes a feature known as 'syrup pools'. These are essentially staking pools where users can stake their CAKE tokens to earn other tokens. The project periodically launches new syrup pools, providing users with diverse opportunities to earn various tokens.
In terms of security, PancakeSwap has been audited by CertiK, a well-known blockchain security company, and has a bug bounty program in place to ensure the security of the protocol.
Team
PancakeSwap was launched by anonymous developers with the pseudonyms "Chef Nomi", "0xMaki", and "sushiswap". Since the project is decentralized, it is governed by the community of CAKE holders.
The PancakeSwap team has remained anonymous since its launch, following the path of other DeFi projects like Bitcoin and SushiSwap. This is in line with the ethos of decentralization and anonymity in the crypto space.
Despite the anonymity, PancakeSwap has managed to attract significant partnerships within the crypto space. It has collaborated with projects like Beefy Finance, Venus, and BakerySwap to offer unique yield farming opportunities for its users.
In conclusion, PancakeSwap (CAKE) is a dynamic project that has managed to carve a niche for itself within the DeFi space. It offers a range of services including token swaps, yield farming, and staking, all with low fees and high efficiency. Despite its relatively recent launch, it has managed to attract a large user base and establish strong partnerships, making it a project to watch in the DeFi space.
How Does PancakeSwap (CAKE) Make Money?
PancakeSwap, denoted by the token CAKE, is a decentralized exchange (DEX) built on the Binance Smart Chain (BSC). It allows users to swap between cryptocurrency assets by providing liquidity and earning fees in return. Let's dive deeper into the mechanics of how PancakeSwap generates revenue.
Transaction Fees
The primary method by which PancakeSwap generates revenue is through transaction fees. Every time a user conducts a swap between two tokens on the platform, a 0.2% fee is applied. Out of this, 0.17% goes to liquidity providers, while the remaining 0.03% is sent to the PancakeSwap Treasury.
Yield Farming
Yield farming is another way PancakeSwap generates income. In this process, users can stake their tokens in a liquidity pool to earn rewards. The more liquidity a user provides, and for a longer time, the more rewards they can earn. These rewards come in the form of CAKE tokens.
Lottery System
PancakeSwap also conducts a lottery, where users can buy tickets using CAKE tokens. A small portion of the lottery pot is burned (removed from circulation), and the rest is distributed among winners. This doesn't directly generate income for the platform, but it encourages the use of CAKE tokens and incentivizes participation in the platform's ecosystem.
How Can I Make Money with PancakeSwap?
Just as PancakeSwap has various methods to earn revenue, users also have several ways to potentially make money on the platform.
Trading
Trading is the most direct way of making money on any exchange, including PancakeSwap. Users can swap one token for another, hoping to profit from price differences. However, this requires a good understanding of the market and carries a risk, as the prices of cryptocurrencies can be highly volatile.
Providing Liquidity
Users can become liquidity providers on PancakeSwap by staking their tokens in a liquidity pool. In return, they earn a portion of the transaction fees generated from trades that occur in their pool. The rewards are distributed proportionally to the amount of liquidity a user provides.
Yield Farming
Yield farming or liquidity mining is another popular way to earn on PancakeSwap. Users can stake LP (Liquidity Provider) tokens, which represent their share in a liquidity pool, to earn CAKE tokens. The earned CAKE can then be staked to earn other tokens.
Participating in Lotteries
Users can also participate in lotteries to potentially win large amounts of CAKE. Each ticket costs 10 CAKE and gives the user a chance to win a portion of the lottery pot. However, this method is more of a gamble than a guaranteed way to make money.
Staking CAKE in Syrup Pools
PancakeSwap offers what they call Syrup Pools, where users can stake their CAKE tokens to earn other tokens. The returns vary depending on the specific Syrup Pool.
PancakeSwap offers various opportunities for users to potentially make money. However, it's important to note that while these opportunities can be lucrative, they also come with risks. It's crucial to thoroughly research and understand these risks before investing in any form of cryptocurrency or DeFi platform.
How Can I Buy PancakeSwap (CAKE)?
If you're interested in buying PancakeSwap (CAKE), you'll need to follow the steps outlined below.
Create an Account on Binance
The first step is to create an account on Binance. Binance is a trusted and popular cryptocurrency exchange, and it supports a wide variety of cryptocurrencies, including CAKE. You can sign up for an account by providing your email address and creating a password.
Verify Your Account
After you've registered, you'll need to verify your account. This usually involves providing Binance with some personal information, such as your name and address, and uploading identification documents. Verification is an important security measure that helps protect your account from fraud.
Secure Your Account
Next, you'll want to secure your account by setting up two-factor authentication (2FA). This adds an extra layer of security by requiring you to enter a code from your phone in addition to your password when you log in.
Deposit Fiat Or Cryptocurrency
Now that your account is set up and secure, you can deposit funds. Binance allows you to deposit both fiat currency (like USD or EUR) and cryptocurrency. If you're depositing cryptocurrency, make sure to select the correct cryptocurrency from the drop-down menu.
Buy PancakeSwap (CAKE)
To buy CAKE, navigate to the markets page on Binance and search for the CAKE/USD or CAKE/BTC pair. Once you've found it, you can place a buy order. You can choose to buy at the current market price or set a limit order to buy CAKE when its price reaches a certain level.
Store Your CAKE in a Secure Wallet
Finally, after buying CAKE, it's important to store it in a secure wallet. You can choose to keep your CAKE in your Binance wallet, but for added security, it's recommended to move your CAKE to a private wallet that you control.
For a more detailed guide on how to buy CAKE, please visit our step-by-step guide on how to buy PancakeSwap (CAKE).
What are the Best Wallets for PancakeSwap (CAKE)?
After purchasing your PancakeSwap (CAKE) tokens, you'll want to store them in a secure wallet. Here are some of the best wallets for CAKE.
Trust Wallet: As the official wallet of Binance, Trust Wallet supports a wide variety of cryptocurrencies, including CAKE. It's a mobile wallet that provides a high level of security and allows you to manage your cryptocurrencies on the go.

MetaMask: MetaMask is a browser-based wallet that supports all ERC-20 tokens, including CAKE. It's user-friendly and has a strong reputation for security.

Ledger Nano S: If you're looking for a hardware wallet, the Ledger Nano S is a great choice. It's one of the most secure wallets available, as it keeps your CAKE tokens offline and safe from potential hacking attempts.
Remember, the safety of your CAKE tokens ultimately depends on how securely you handle your private keys. Never share them with anyone, and always make sure to keep them stored in a safe place.
How Can I Find More PancakeSwap (CAKE) News?
Cryptocurrency enthusiasts, investors, and traders who are interested in PancakeSwap (CAKE) can find the latest news and updates from various sources. Here are several reliable platforms to keep you updated:
The official PancakeSwap website is the first and foremost source of information about the CAKE token. It provides real-time data about the token, including its current price, market cap, and trading volume. The website also features a blog section where you can find the latest news, updates, and announcements directly from the PancakeSwap team.
PancakeSwap's official Twitter account is another excellent source of information. The platform uses Twitter to make announcements, share news, and interact with its community. By following their account, you can stay updated about all the latest developments and get a firsthand look at the community's sentiment and discussions.
The PancakeSwap Reddit is a community-driven platform where users discuss various topics related to the CAKE token. This includes trading strategies, price predictions, news updates, and much more. It's a great place for both beginners and experienced traders to learn more about PancakeSwap and interact with other members of the community.
Coins Similar To PancakeSwap (CAKE)
There are several other cryptocurrencies that operate in a similar domain as PancakeSwap (CAKE). If you're interested in exploring more options, here are a few you might want to consider:
Loopring is a decentralized exchange protocol that allows for the trading of ERC20 tokens across different exchanges. It aims to provide users with a secure, transparent, and open trading platform. Loopring is known for its innovative technology that enhances liquidity and reduces trading costs. Find out more about Loopring on the provided link.
THORChain is a decentralized liquidity protocol that enables users to easily exchange cryptocurrency assets across different networks without losing full custody of their assets. Its native token, RUNE, is used for staking, bonding, and governance within the ecosystem. To discover more about THORChain, visit the link above.
1inch Network is a decentralized exchange aggregator that sources liquidity from various exchanges and is capable of splitting a single trade transaction across multiple DEXs. This means it can provide users with the best possible trading rates. It's a fascinating project with a lot of potentials. Learn more about the 1inch Network through the provided link.
Synthetix is a decentralized platform on Ethereum for the creation of on-chain synthetic assets that track the value of real-world assets. It was one of the first projects in the DeFi space and continues to be a leader in the industry. Explore more about Synthetix by visiting the link above.
In conclusion, PancakeSwap (CAKE) and its similar cryptocurrencies offer a wide range of possibilities for traders and investors. However, it's always important to do your own research before making any investment decisions.
PancakeSwap Markets
Rank
Exchange
Country
Coin Types
Fees
Trade
1

Binance

Cayman Islands

366

Currencies including CAKE

0,10%

More info
2

BitForex

Seychelles

315

Currencies including CAKE

2.86% - 3.90%

More info
3

BitMart

Cayman Islands

723

Currencies including CAKE

0.04% - 0.4%

More info
4

BingX

Singapore

531

Currencies including CAKE

Varies

More info
Coins Similar To PancakeSwap